Saturdays at Cafe Murmurs — Live Drawing Taught by Marcel Alcalá
Saturday, January 11th | 12 - 3PM

We kick-off a new programming series (and the new year) — Saturdays at Cafe Murmurs, which will activate the front room at Murmurs with daytime events such as workshops, readings, tastings + more. These happenings will always be FREE & open to the public!

On January 11th from 12-3 PM as Marcel Alcalá leads a drawing class with Emily Lucid figure modeling. Please bring any medium you choose – basics like charcoal and paper will be provided.

FREE and open to the public.
A $5-10 optional donation to support the model & teacher is much appreciated. Stay tuned as this will become a repeated event.
Tierney Talks
Live at Murmurs
Friday, January 17th | 7 - 11PM
Join us at Murmurs this Friday for an evening celebrating the first anniversary of
Tierney Talks
, the long-form interview podcast hosted by
Tierney Finster.
The party begins with snacks by holistic chef
Camila Creates
and music by
Prince Willy.
We will also be recording a live episode of the podcast beginning with performances by
Sisters With Invoices
founder and karaoke enthusiast
Amelian Kashiro Hamilton
and
Cosmo Visiones Ancestrales
co-founder and psychedelic cabaret artist
La Pachamami
. Then Tierney will be in conversation with teacher and CA state assembly candidate
Fatima Iqbal-Zubair
and exhibiting artist
Emily Barker
.Host Tierney Finster is a local artist, actor, journalist and screenwriter. She's passionate about storytelling, listening and sharing information and works primarily in entertainment, art, fashion and digital media. This event is FREE and open to the public.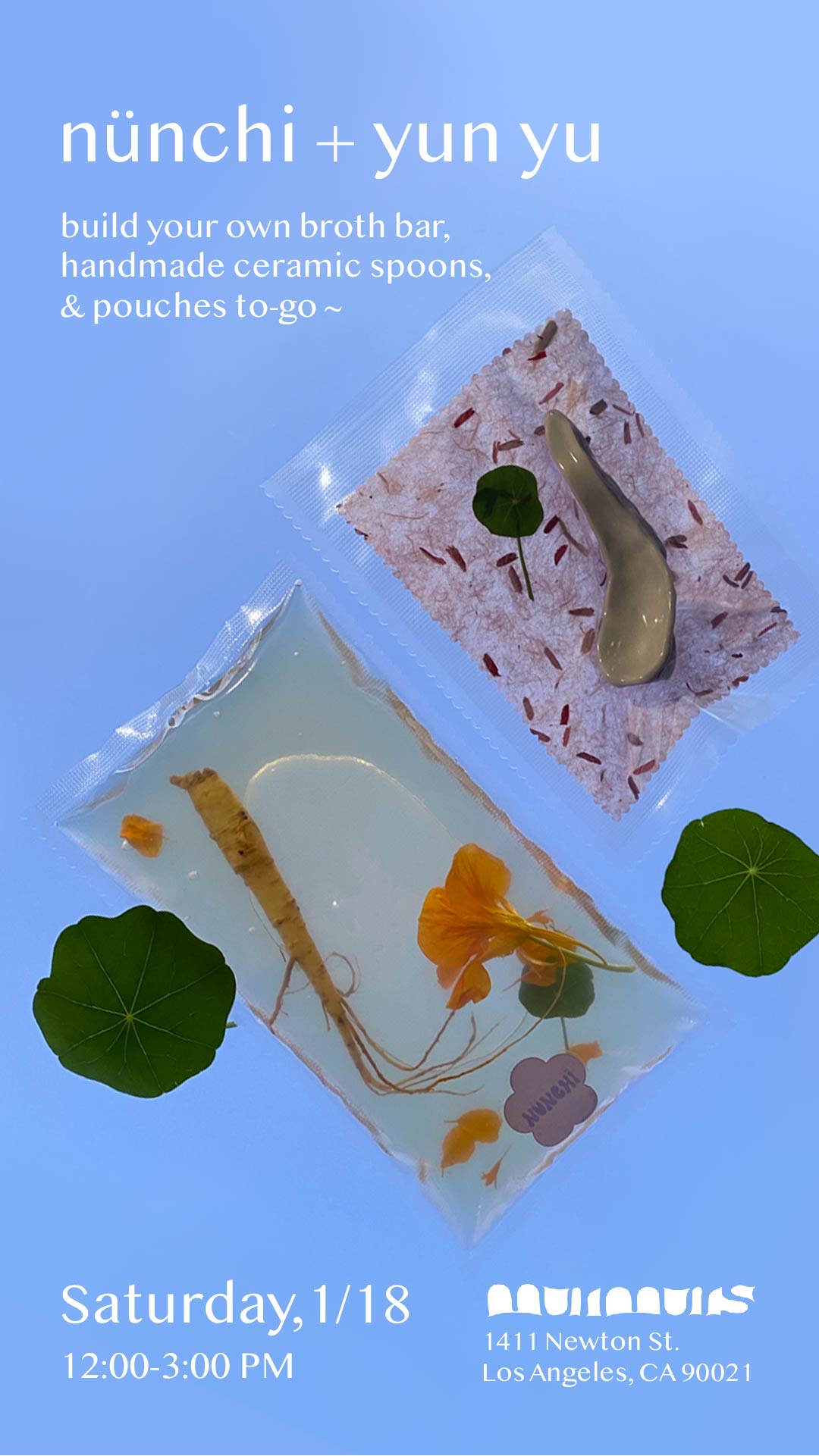 Saturdays at Cafe Murmurs — Lunch by Nünchi + Yun Yu
AND
An Artist Talk by Emily Barker
Saturday, January 18th | 12 - 3PM (artist talk: 2PM)

Guest artist chefs Nünchi (Lexie Park) and Yun Yu take over the kitchen at Cafe Murmurs to create a "build your own broth bar" — a custom experience in food, art, and sustainability. Start with a bone or vegan broth base and choose from an array of accompianments to make your perfect bowl and enjoy it out of a handmade ceramic spoon by Yun Yu. Sustainable to-go pouches will be available. Vegan & gluten free options available.To commemorate the closing day of Built to Scale, artist Emily Barker will be giving an artist talk and explanation of the exhibition. Talk begins at 2PM. FREE and open to the public.

Opening Reception — Benjamin Asam Kellogg, House of Hours Saturday, February 15th | 5 - 8PM

Murmurs Holiday Market
Sunday, December 8th | 11AM - 8PMTo commemorate our first holiday season, we wanted to honor the community of creators and artists who've made Murmurs possible. On Sunday, December 8th, 18 unique vendors selling art objects, ceramics, jewelry, books, garments, and more convened at Murmurs...
SWALLOW x Murmurs
Saturday, November 2nd to Saturday, November 23rd
During the month of November, the front room at Murmurs will be completely transformed into SWALLOW, a queer concept club for Los Angeles that transitions from night to day. Designed by and with the community, the architecture of SWALLOW mimics the contraction and expansion of the human body...
Emotional Hardcore
— A Dinner by Albert Samreth
Saturday, October 12th | 5-9PM
Emotional Hardcore
, presented by Albert Samreth at Murmurs is a four-course dinner of Khmer-Californian food served in the Murmurs garden alongside a video portrait series Samreth has been working on when visiting home. Live music by Shiva Linga and a DJ set by Muñeka accompany dinner...
Fundraiser for Emily Barker
Sunday, October 6th | 5-8PM
Murmurs hosts a benefit art auction & live concert to support LA-based artist & disability activist Emily Barker...
'Nasal Normalization' — A Performative Lecture by Mandy Harris Williams
Thursday, October 3rd | 7:30PM

'Steps to Nasal Normalization' — a perfromative lecture by Mandy Harris Williams is an exploration of the pervasive featurism that plagues modern (and historical) society. Williams is a conceptual artist, theorist and educator. Her work seeks to get everyone the love that they deserve...
Ladies of the Canyon
Friday, August 9th & Saturday, August 10th 2019 | 7PM
The theatrical debut performance of "Ladies of the Canyon," the first installment of Jack Levinson's scripted series The Square Circle Story.
..
POWER DRESSING — "Appearance as Performance"
Saturday, August 3rd 2019 | 6:30PM-2AM
A collaboration between Third Magazine and Murmurs — POWER DRESSING showcases a collective of independent designers — 8 Palms, Fear Safe, Femail Forever, No Sesso, Phlemuns, and Poche — whose work resist mainstream aesthetics...
My Body, Nonbinary
Friday, July 19th 2019 | 8PM-1AM