Murmurs Holiday Market
Sunday, December 8th | 11AM - 8PM
Please join us at Murmurs for our 2019 Holiday Market — a celebration of local artist-made and one-of-a-kind goods! To commemorate our first holiday season, we wanted to honor the community of creators and artists who've made Murmurs possible. This Sunday, 18 unique vendors selling art objects, ceramics, jewelry, books, garments, and more will convene at Murmurs. The Holiday Market is the perfect place to shop for gifts, and a gift-wrapping service will be available. Food, dessert, drinks, and wine are provided courtesy of Cafe Murmurs, Chef Chantilly, Poncho's Tlayudas, Psychic Wine, and Lauren Elder.

The event is free and open to the public!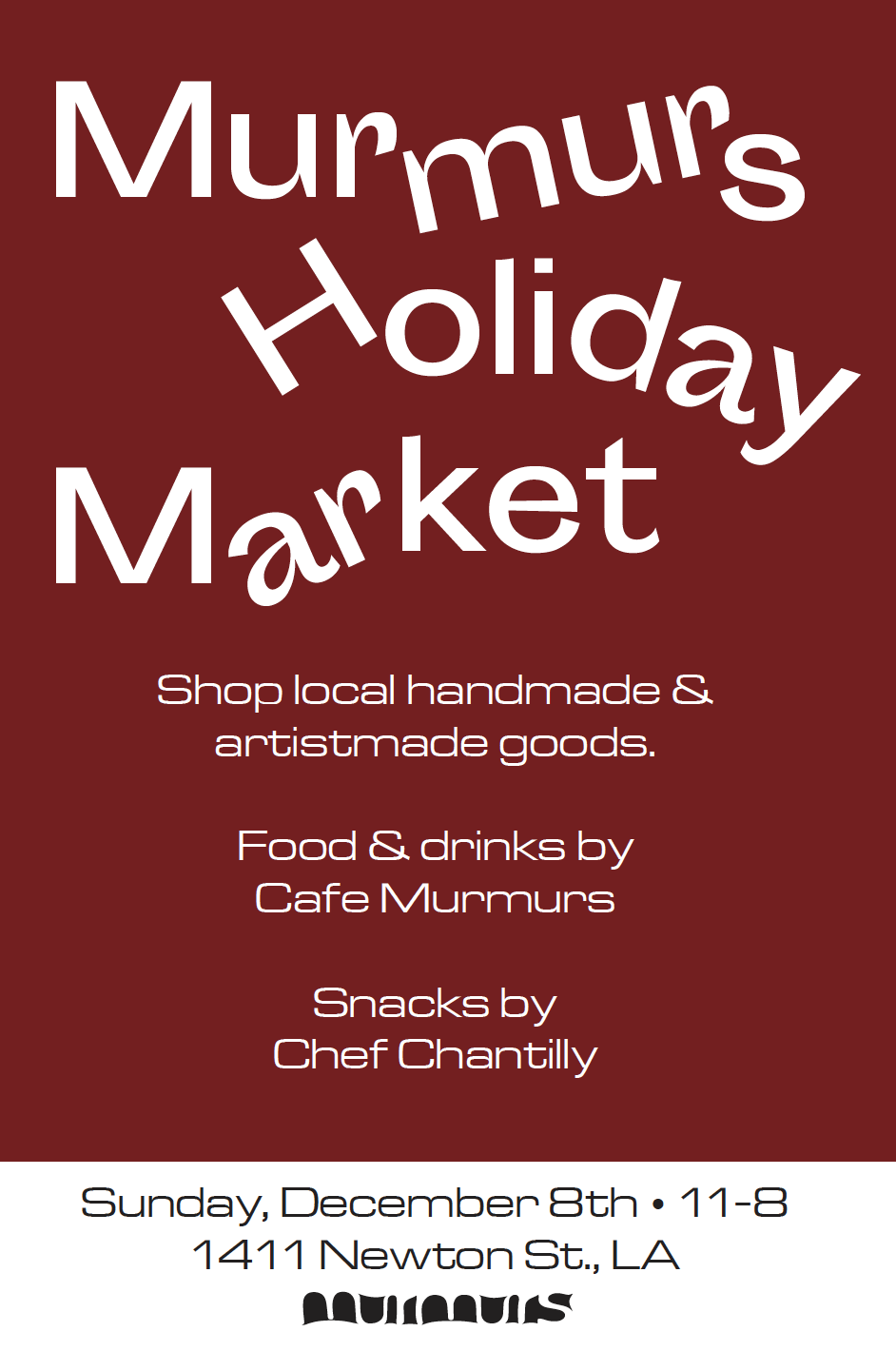 Check back soon for announcements about our upcoming events.

SWALLOW x Murmurs
Saturday, November 2nd to Saturday, November 23rd
During the month of November, the front room at Murmurs will be completely transformed into SWALLOW, a queer concept club for Los Angeles that transitions from night to day. Designed by and with the community, the architecture of SWALLOW mimics the contraction and expansion of the human body...
Emotional Hardcore
— A Dinner by Albert Samreth
Saturday, October 12th | 5-9PM
Emotional Hardcore
, presented by Albert Samreth at Murmurs is a four-course dinner of Khmer-Californian food served in the Murmurs garden alongside a video portrait series Samreth has been working on when visiting home. Live music by Shiva Linga and a DJ set by Muñeka accompany dinner...
Fundraiser for Emily Barker
Sunday, October 6th | 5-8PM
Murmurs hosts a benefit art auction & live concert to support LA-based artist & disability activist Emily Barker...
'Nasal Normalization' — A Performative Lecture by Mandy Harris Williams
Thursday, October 3rd | 7:30PM

'Steps to Nasal Normalization' — a perfromative lecture by Mandy Harris Williams is an exploration of the pervasive featurism that plagues modern (and historical) society. Williams is a conceptual artist, theorist and educator. Her work seeks to get everyone the love that they deserve...
Ladies of the Canyon
Friday, August 9th & Saturday, August 10th 2019 | 7PM
The theatrical debut performance of "Ladies of the Canyon," the first installment of Jack Levinson's scripted series The Square Circle Story.
..
POWER DRESSING — "Appearance as Performance"
Saturday, August 3rd 2019 | 6:30PM-2AM
A collaboration between Third Magazine and Murmurs — POWER DRESSING showcases a collective of independent designers — 8 Palms, Fear Safe, Femail Forever, No Sesso, Phlemuns, and Poche — whose work resist mainstream aesthetics...
My Body, Nonbinary
Friday, July 19th 2019 | 8PM-1AM