OUR MISSION —
Murmurs is a joint curatorial project founded by Allison Littrell and Morgan Elder with the vision to create an arts space that is community-driven and champions the emerging artists and voices that surround us. Our programming includes art, performance, and community events such as panels, workshops, film screenings, theater and readings. Located in a warehouse in the Manufacturing District, our multifaceted environment also includes Cafe Murmurs — a cafe and curated shop carrying local artist and handmade goods.
Murmurs is modeled after the duality of a murmur as both communal and personal, external and internal: Every momentous creation begins as a murmur — slipping from one person's lips into the earshot of another then repeated through a crowd, like ripples across still water. To hear murmurs requires a shift in perception. They are currents flowing through the community, undergirding everything that is big, loud, and obvious. Though subtle, murmurs are powerful. In your heart, a murmur can arrest you from the inside out, dictating your body's rhythm to throw you into a state of heightened awareness.
Amendment 1, c. 6.30.20
The mission of Murmurs is to present an alternative model of an arts space that exists outside the binary of museums/galleries and strives to dismantle the racist capitalist paradigm that the conventional art world has evolved from. Museums historically originated as collections of objects pillaged from native populations by colonizers while commercial galleries function so long as art is a commodity, gate-kept by an elite few.
Murmurs offers a new model where a cafe and retail shop generate revenue that in turn funds artists to create artwork in the exhibition space. We focus on supporting art that resists commodification—installations, performances, videos, and happenings—and on practicing a style of curating which centers the artist at every point of the process, empowering and supporting them to realizing their vision. Murmurs champions those voices who have been systemically displaced, both historically and currently. This means centering BIPOC, queer, trans, and artists with disabilities and always compensating those artists for their labor. This also means centering the different philosophical inquiries and perspectives that exist throughout the socioeconomic spectrum.
Murmurs exists to challenge what is expected of an arts space by becoming a multi-faceted platform for strengthening community solidarity and building consciousness in order to transform reality. We lend our platform and resources to justice-based decolonizing practices. Murmurs will continue to evolve, adding to our mission and plan of action, as we listen and learn from voices seeking change through social justice.
PLAN OF ACTION—
ABOUT THE SPACE—Murmurs consists of a 4,900 sqft warehouse with two main spaces, plus a large covered patio garden that acts as a thoroughfare, connecting the front and back spaces. The back space is a 1,600 sqft gallery while the 1,200 front space features a professional cafe kitchen. Located just beyond the boundary of the Arts District in the Textile Manufacturing District, Murmurs is one of the few non-manufacturing business on the block. The space is available for selective rentals, at the owner's discretion. Inquire here:
info@mumurs.la
VISIT—
1411 Newton St.
Los Angeles, CA 90021
info@murmurs.la
instagram: @mumurs.la
@cafemurmurs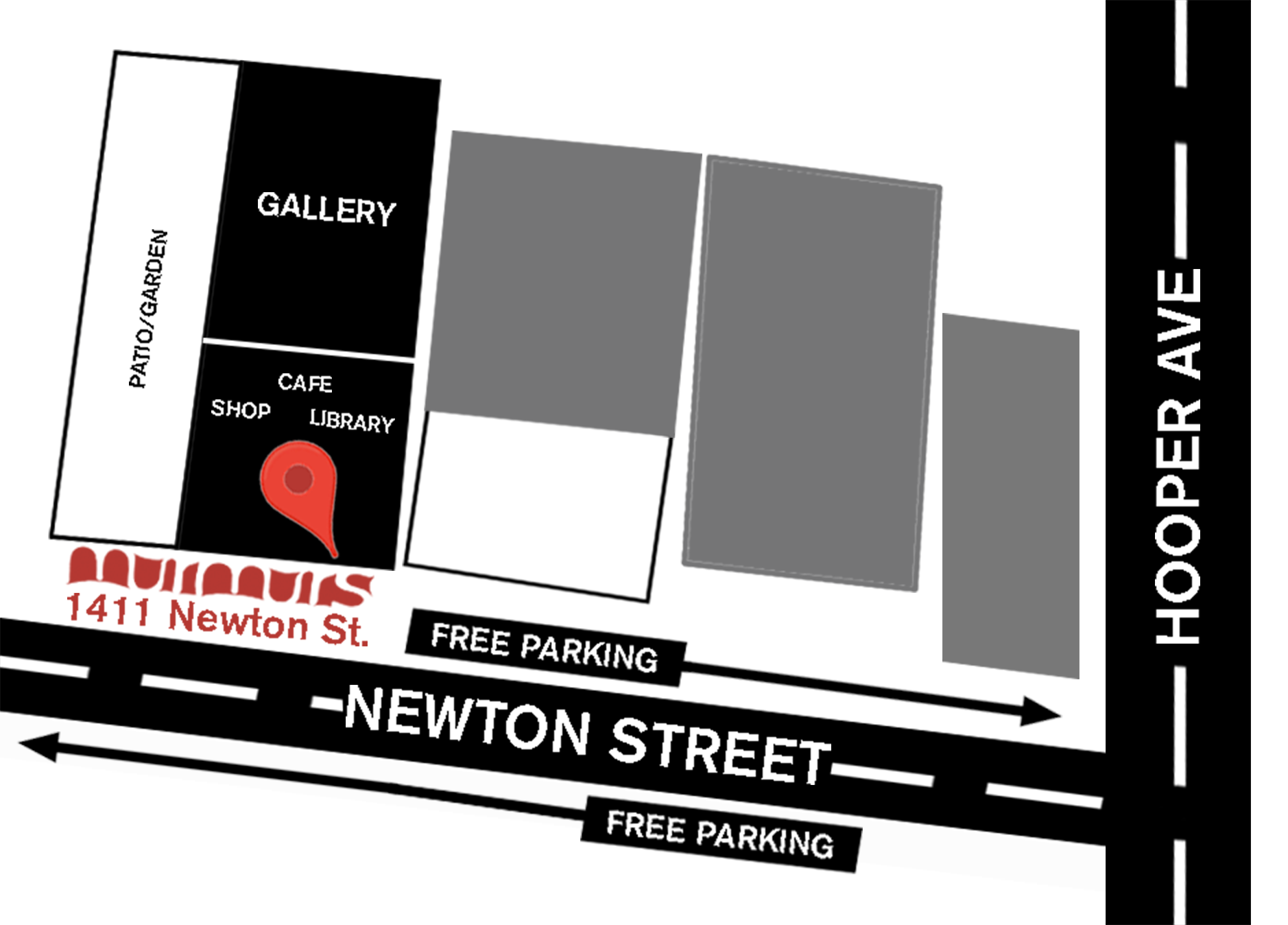 HOURS
10-5PM Tuesday to Friday | 11-5PM Saturday

LOCATIONMurmurs is located at 1411 Newton Street, Los Angeles, CA 90021 in the Manufacturing District of downtown LA, between Hooper and Central Aves, just west of the Fashion District, south of the Arts District, and three blocks north of the I-10 freeway. The nearest exit off the I-10 is Central Ave — exit 15A.

Murmurs has a red brick facade with a glass storefront and black gate. There are two entrances: the glass double doors and the door in the large black gate which leads into the patio garden. Cafe Murmurs and retail shop is located in the front room, with the gallery directly behind it. To visit the gallery, proceed through cafe and stay to the left, past the swinging glass doors.

PARKINGFree, un-metered street parking is readily available on our block of Newton Street.

PUBLIC TRANSPORTATION The closest Metro station is the Washington Station, off of the Blue Line. You can also take the 51/53 bus to San Pedro/14th Street and walk for 4 minutes.

ACCESIBILITY Murmurs is located on the ground floor and the entire premises are wheelchair accessible & ADA compliant. All of our restrooms can accommodate large wheelchairs, as can our bar. A gender neutral restroom is located in the cafe.
TO RECEIVE NEWS ABOUT MURMURS, SUBSCRIBE TO OUR NEWSLETTER BELOW