Benjamin Asam Kellogg (born 1991 in Long Island, NY) attended The Cooper Union. His work draws from the architectural and symbolic history of an elite and secretive class, borrowing from the crests, engravings, and cryptic ornamentation of facades. Kellogg applies the logic and vernacular of the semiotician, following tenuous but poetic connections between the entertainment industry, religious or occult institutions, and political organizations. Whether or not a particular connection can be proven is secondary to the kernel of truth that lies in the impulse to seek it. At the heart of this practice is a longing, or a prayer, for an essential truth that may never be told.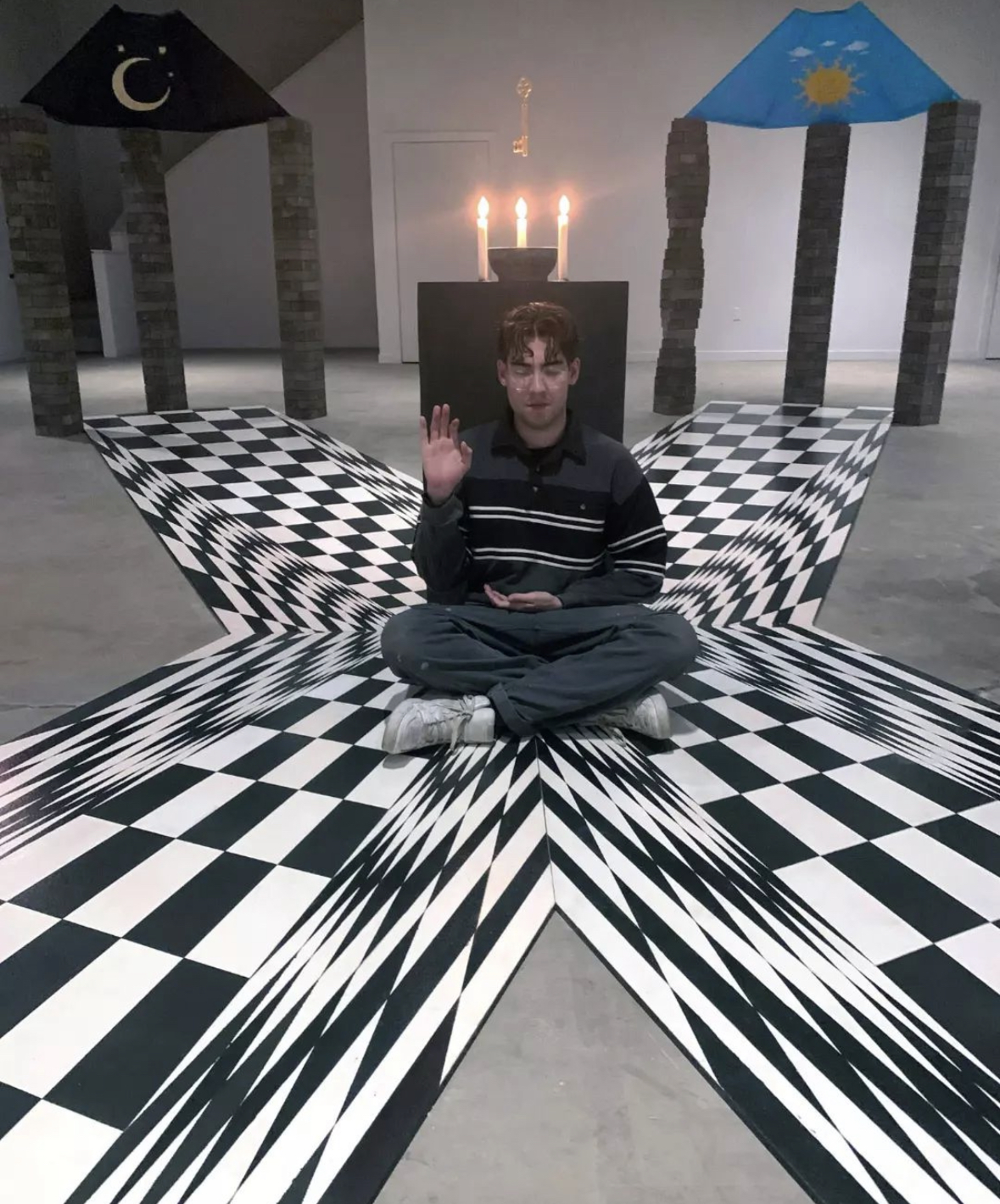 Solo & Duo Exhibitions

2023
Hidden Pathways︎︎︎
Murmurs, Los Angeles, CA
2021
Die schlange unter der blume︎︎︎
Bistro21 Gallery, Leipzig, Germany
2020
House of Hours︎︎︎
Murmurs, Los Angeles, CA
2019
Prophecy Club with Connor Crawford︎︎︎
MX Gallery, New York, NY
2018
The Window of the Breath Which Lets in the Divine︎︎︎
with Brigid Moore
Alyssa Daivs Gallery, New York, NY
2016
The Perfect Storm︎︎︎
Societe, Berlin, Germany
2014
Afterlife Are Belong to Me
with Bunny Rogers
Sandy Brown Gallery, Berlin Germany
2014
Kiss the Ring
Macie Gransion Gallery, New York, NY
2013
Pathways to Cineland
Sandy Brown Gallery, Berlin, Germany
Group Exhibitions
2021
Le Theatre des Exposistion
- Palais des Beaux-Arts, Paris, France
2020
Toksa Project Volume III
- Tokas Hongo, Tokyo, Japan
The Struggle for Change
- Murmurs, Los Angeles, CA
2019
I'll see you in the ether
- Hunter Shaw Fine Art, Los Angeles, CA
Art Cologne Fair - MX Gallery Booth, Cologne Germany
2018
Desert Pour Toujours
- Collection Liberee, Luxor Hotel, Las Vegas, Nevada
2017
Art Expo Umeda Hankyu, H.P.G.R.P. Booth, Osaka, Japan
2016
Chaotic Neutral
- Valet, Richmond, Virginia
August & everything after
- Plymouth Rock, Zurich, Switzerland
2015
Always Brian (te amo)
- 63rd-77th Steps, Bari, Italy
2014
Gala Event, Arena, Kansas City, MO
Showcade HAW Contemporary, Kansas City, MO
2013
Mawu
- Courtney Blades Gallery, Chicago, Illinois
2012
twothousandtwelve
- CEO Gallery, Malmo, Sweden
2011
B.Y.O.B.
- Art Basel, Miami, Florida
2010
Primary Flight
- Miami, Florida
PRESS
2020 -
CULTURED
2019 -
PIN UP
2019 - Tzvetnik
2018 - Foundations