Mission Statement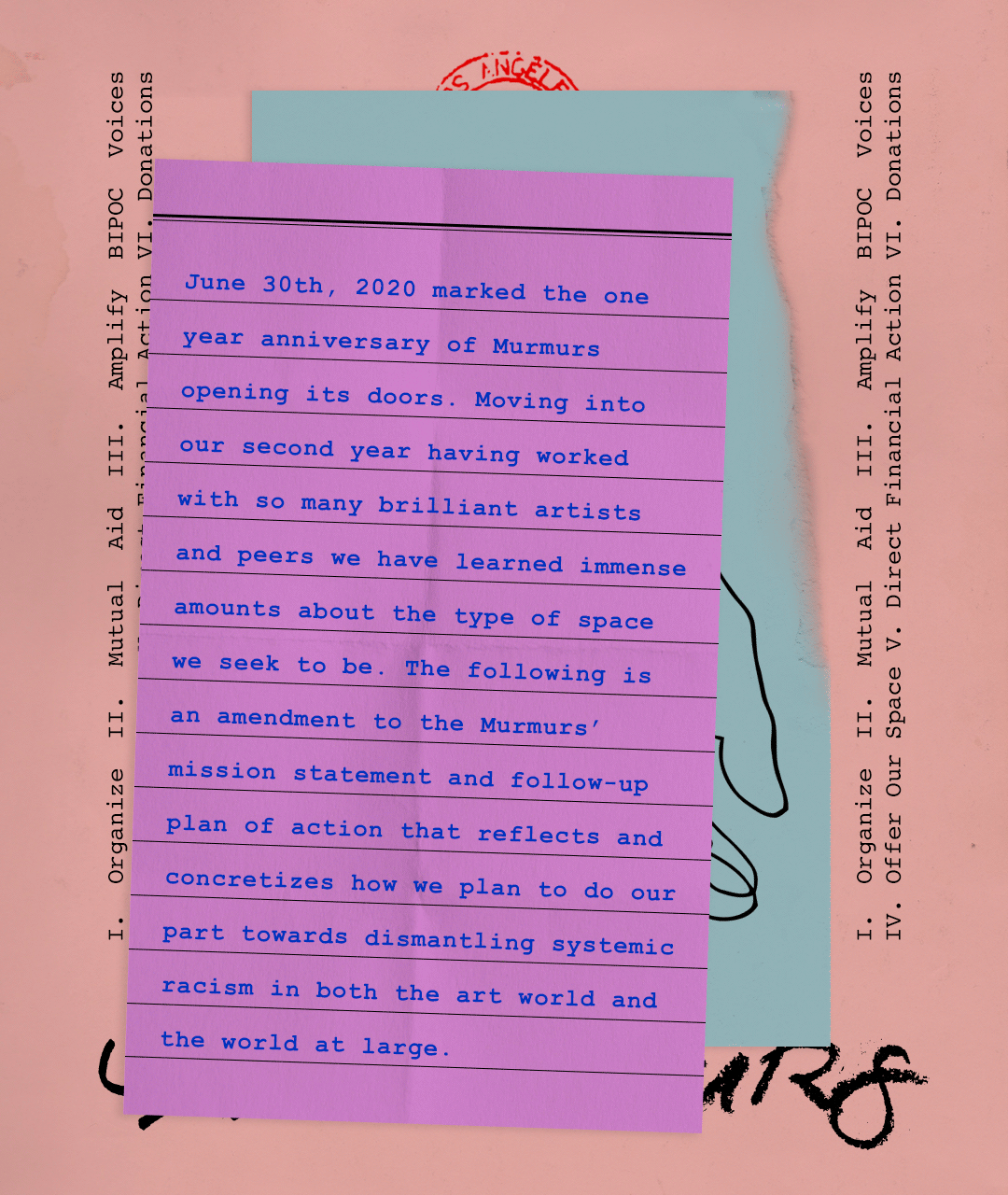 ---

The mission of Murmurs is to present an alternative model of an arts space that exists outside the binary of museums/galleries and strives to dismantle the racist capitalist paradigm that the conventional art world has evolved from. Museums historically originated as collections of objects pillaged from native populations by colonizers while commercial galleries function so long as art is a commodity, gate-kept by an elite few. Murmurs offers a new model where a cafe and retail shop generate revenue that in turn funds artists to create artwork in the exhibition space.

We focus on supporting art that resists commodification—installations, performances, videos, and happenings—and on practicing a style of curating which centers the artist at every point of the process, empowering and supporting them to realizing their vision. Murmurs champions those voices who have been systemically displaced, both historically and currently. This means centering BIPOC, queer, trans, and artists with disabilities and always compensating those artists for their labor. This also means centering the different philosophical inquiries and perspectives that exist throughout the socioeconomic spectrum.

Murmurs exists to challenge what is expected of an arts space by becoming a multi-faceted platform for strengthening community solidarity and building consciousness in order to transform reality. We lend our platform and resources to justice-based decolonizing practices. Murmurs will continue to evolve, adding to our mission and plan of action, as we listen and learn from voices seeking change through social justice.


---
Plan of Action

I. ORGANIZE
a program of workshops (online and in person) dedicated to topics of racial justice, dismantling white supremacy, decolonizing language, policy change, histories of revolutionary resistance, and more. These workshops will be led by activists, educators, and experts who will always be paid for their work.
II. MUTUAL AID
Make space for programs that distribute needed goods and services such as but not limited to mental health counseling, food, healing, and skills workshops to our community of peers.
Continue the fight for food justice by cooking and distributing meals weekly to the unhoused community.
Support local organizations to help them conduct trainings on how to be an advocate for the unhoused.
Protect our unhoused neighbors from displacement and harassment. Advocate for them and support them in any way they need.
Open up Murmurs' space for mutual aid projects led by members of the community.
III. OFFER OUR SPACE
Murmurs' space will be made available to organizations doing social justice work as a meeting place, to hold events, and more. Any interested organization can email to inquire.
Continue to commit to being a fully accessible space --including all exhibitions and events-- beyond ADA compliance.
IV. AMPLIFY BIPOC ARTISTS
Go on more studio visits, organize more exhibitions and programs with BIPOC artists.
Welcome suggestions of BIPOC artists who you'd like to see Murmurs work with. We will make our best effort to arrange studio visits with all suggested artists.
Hire BIPOC whenever possible, for events and if we ever expand our team.
Invite BIPOC curators to curate shows and programs.
V. DIRECT FINANCIAL ACTIONS TO THE BLACK COMMUNITY
Offer "Friends of Murmurs" memberships which allow free or discounted entry to all Murmurs-hosted events and a discount in the cafe and retail store. Available via DM or email request.
Offer writing services including: grant-writing, essay editing, letters of recommendation, resumes, and more.
Offer graphic design services.
Offer printing and wifi at Murmurs.
In any instance where Murmurs sells artwork, all Black artists will have the option to keep 100% of sales proceeds, if they wish.
VI. DONATIONS
Continue to donate a portion of sales proceeds from the cafe and shop to organizations doing social justice work.
Host a fundraising art show at least once a year that benefits the BLM cause, starting this year.