The stars are a mnemonic without object.
Let the forgetting begin.

by Micah Schippa
Info
---
Micah Schippa currently lives and works in Chicago. They earned their BFA from the School of the Art Institute of Chicago. They have studied music and writing independently throughout their career. They have had exhibitions in Vienna, Chicago, London, New York, Buenos Aires, and Berlin. This is their first solo exhibition in Los Angeles.

---
---
Photos

---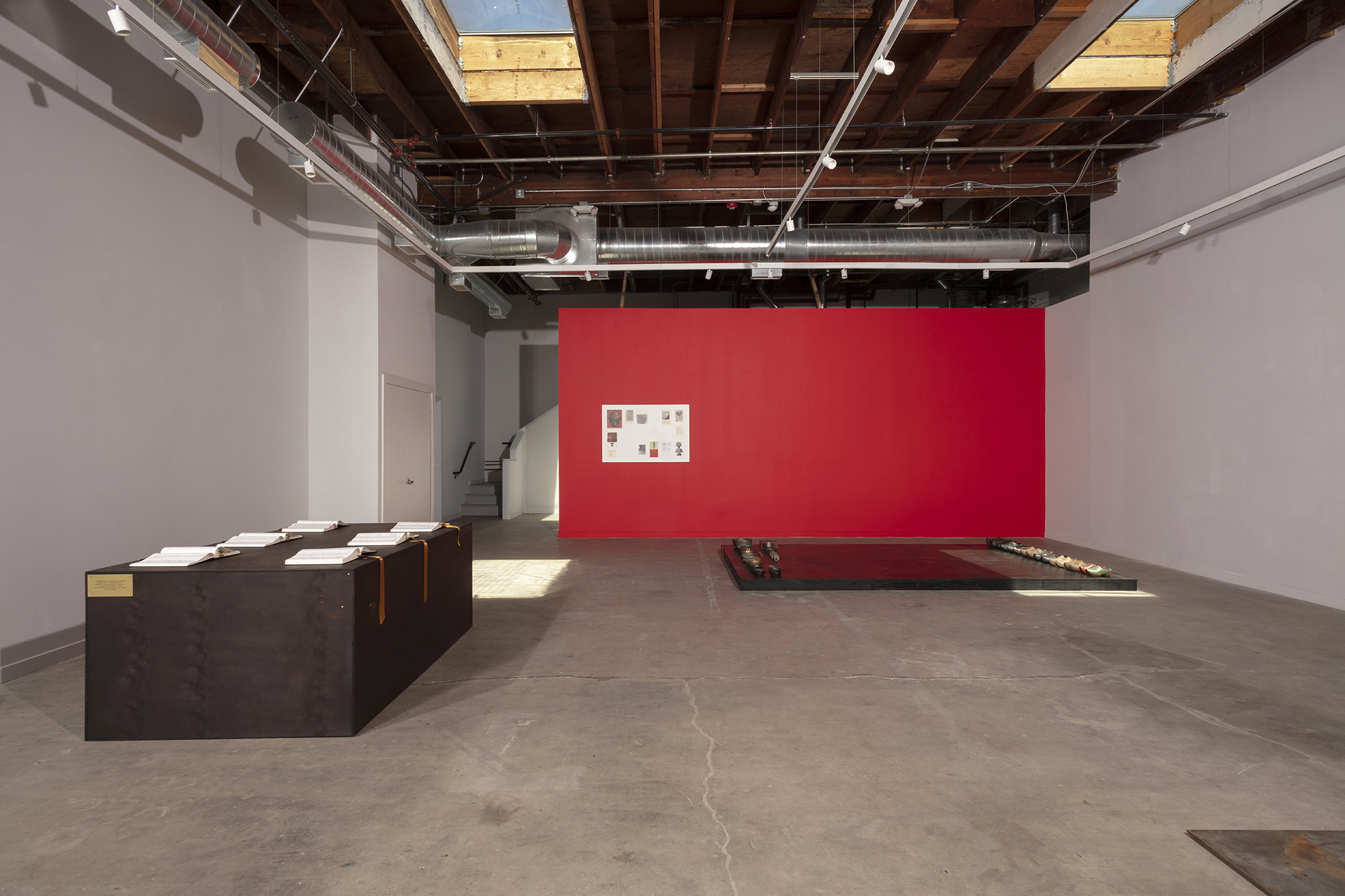 Installation Views
16 Deaths for Edivaldo Silva de Oliveira and Jeovan Bandeira whose burnt bodies were found in their car on the tenth of June, 2006, 2020

—metal plinth, plexiglass vitrine, velvet cloth
—metronomes set to Grave, Largo, Lento, Larghetto, Adagio, Adagietto, Andante, Andantino, Maestoso, Moderato, Allegretto, Animato, Allegro, Vivace, Presto, and Prestissimo, respectively. The metronomes are wound once a day at the gallery's discretion
75.5 x 55 x 18.5 inch
on a few points of principle
Item sabots
blouse—
I work in the dye-house
myself, 2021
—aluminum plaque, wooden stage
—collected wooden sabot (Belgian, Dutch, American, Spanish)
—collected bowls (Pre Columbian, 12th century Cambodian, modern Tibetan, Civil War Era American, 19th century Turkish, & originals by the artist)
—collected machine components
—ash from a decimated copy of "Dialogue Concerning the Two Chief World Systems" by Galileo Galilei, natural earth pigments, lacrimal solution (salt water made to mimic the composition of tears)

144 x 96 x 8 inches

negative requiem | sextet, 2021

—aluminum plaque,
List of All Species, in the Vernacular, by Taxonomic Rank, Vol. I-VI
—perfect bound paperback, 400 pages

84 x 48 x 31 inches


The shape of the room below the person who walks past
stairs, looks down to walls (white) against which sets of small cups
have been placed as if to be touched, spoken. Certain of the words one has thought glazed, trout in the stream against the rock from which one turns
to the person concealed at the edge of sound. As if to define what is possible in more than two dimensions, the place the line occupies in its movement
from here to the wall opposite, in front of which the hollow of blue cup begins to be filled by the presence of its body., 2020

Excerpt from "Sculpture" by the poet Stephen Ratcliffe on skylight

Dimensions variable

pattern produced by a spoken vowel, 2020

—collected pages from the collection of the artist, framed

41 x 33 x 1.5 inches

Linklines at Jupiter/Saturn conjunctions, beginning c. 5 April 4950 BC, 750 times, period 14,893.9 years, 2020
—collected pages from the collection of the artist, framed

41 x 33 x 1.5 inches

viscera of a butterfly, 2020

—collected pages from the collection of the artist, framed

41 x 33 x 1.5 inches
Death mask of beaten silver, 2020

—collected pages from the collection of the artist, framed

50 x 33 x 1.5 inches

she bathed a trumpet in milk—Eduardo C. Corral, 2020

—milk, silver trumpet stripped of the parts which make it playable, plexiglass vitrine

30 x 17 x 17 inches

CONDEMNED TO HUNGER AND THIRST, 2021

—aluminum plaque, wooden plinth, decimated oxford men's shoes

30 x 24 x 10 inches

CITIZENS, 2020
—collected pages from the collection of the artist, framed

17.5 x 13.5 x 1.5 inches

sentience of music | duet, 2021
an unslipping knot, gender
—oxford men's shoes dissolving in gastric solution (HCL solution made to mimic the composition of stomach acid), plexiglass vitrine

Let the forgetting begin.
—brass clock movement mechanism in lacrimal solution (salt water made to mimic the composition of tears), plexiglass vitrine

15 x 15 x 15 inches


Photo Credit: Joshua Schaedel & Micah Schippa