Opening October 28 2022 from 5-9PM to December 17 2022

All in Time by Maria Maea
Info
---
The new body of work in this exhibition examines memory as a revolutionary tool of liberation. Through sculptural installations composed of organic materials collected across Los Angeles, Maea's practice is deeply rooted in her family lineage and her inherent connection to agriculture. She aims to create space for collaboration and dialogue as a way to generate connection to ancestry.


---
Maria Maea is a multidisciplinary artist working in sculpture, installation, performance and sound. Through her art practice, she deepens her connection to ancestry and collective memory. Maea's work has recently been exhibited in the Orange County Museum of Art's California Biennial, Palm Springs Art Museum, La Pau Gallery and Oxy Arts. Maea's work has been featured in publications such as The New York Times, Los Angeles Times and Cultured Mag.

---
---
---
Select Press

---
---
---
---
---
Photo Documentation
---
All in Time, 2022

Palms, rebar, rotisserie motor, concrete, marigolds, wax, soda cans, Spanish moss, Magnolia seed pod

Dimensions Variable


Untitled (Brother), 2022

concrete, wiring, shells, earring, LB cap, chuck, sunflower fishing pole, Spanish moss, star fish, madagascar seed pod, squash plant and planter

Dimensions Variable


Pyramid of the Magician, 2022

Paint on Mexican fan palm



180" x 120"

Taupō Creations, 2022

Siapo textile, Tuiga headdress, palm , wire, wood, concrete



Dimensions Variable

Untitled (Nephew), 2020

Concrete, wax, wreath stand, milkweed plant, Madagascar jasmine plant, dried protea, dried flowers, milkweed bugs, painted palm, terrarium

Dimensions Variable
Untitled (baskets), 2020 - 2022

palms, paint, sage horn, Spanish moss, resin



Dimensions Variable
Special Project

---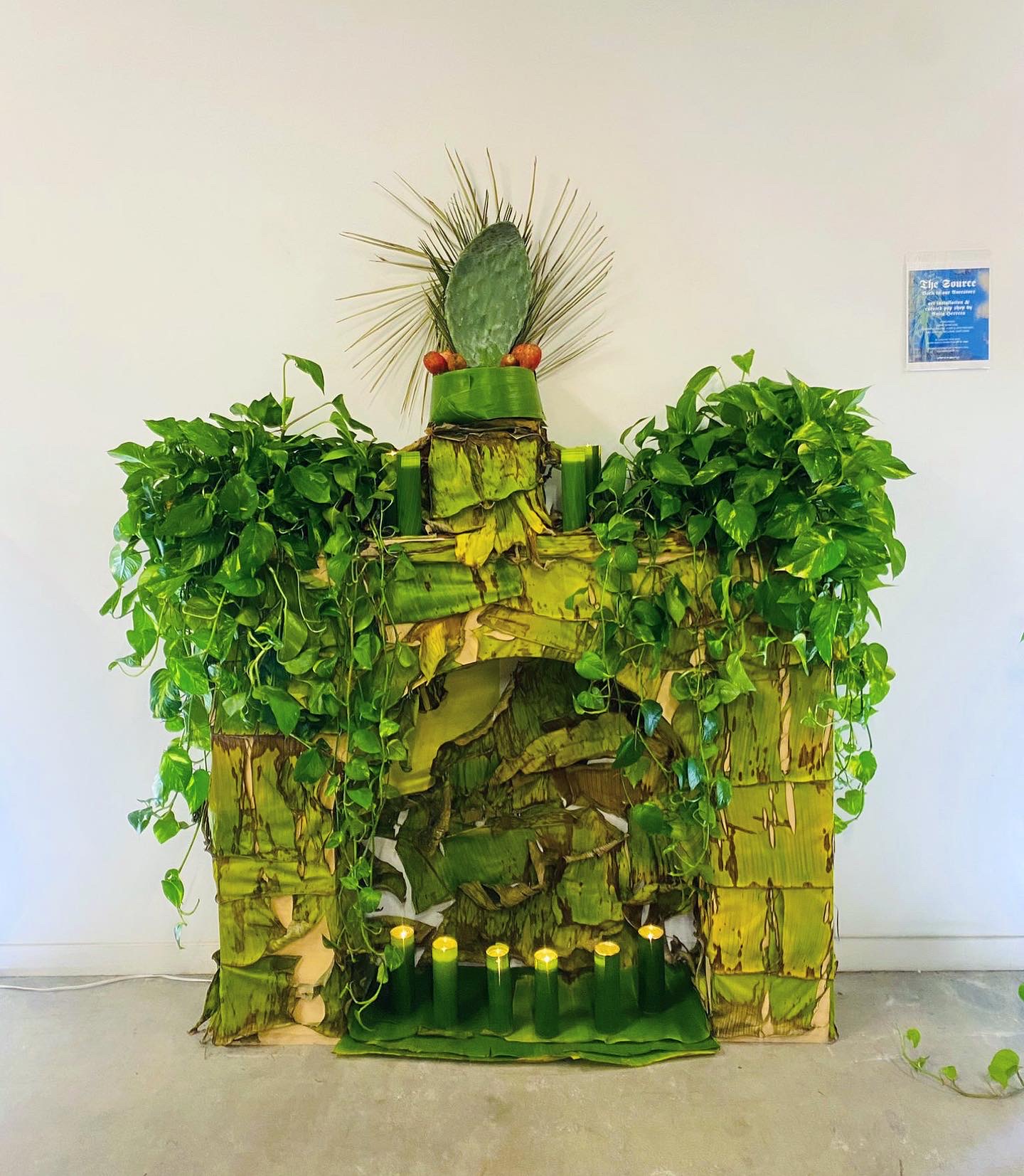 The Source: Back to Our Ancestors
AN INSTALLATION & POP UP CURATED. BY ANITA HERRERA
A conversation about how religion is used as a tool to colonize, and how our true "religion" is actually our connection to nature and the love we have within ourselves. The decolonized altar represents healing and reconnection to our soul's purpose. The brands selected for this curation are in direct conversation with the de-colonized altar space. They bring forward the idea of going back to our ancestral roots and its deep connection to nature and ability to heal. Healing is the art of unlearning.
Featuring:
Libre Skincare, Earthy Corazón, Ever's Apothecary,
SBJ ESNTLS, Tecuane Hair Care
This project is presented in conjunction with Maria Maea's show
All in Time.
Anita Herrera is a creative producer, artist, curator, and cultural consultant based in Los Angeles and Mexico City who specializes in production, brand partnerships and collaborations in the fashion, music and art industries.