September 15th – October 21st, 2023
Erick Alejandro Hernández
Although his lived experience serves as the wellspring for his paintings, Erick Alejandro Hernández ceaselessly attempts to give shape to that which is ineffable. Working iteratively and associatively to develop form and content while taking cues from psychoanalysis, Hernández's works are investigative allegories exploring individual and shared experiences like grief, assimilation, and exile. One of the most striking features of the paintings in night is a narrow edge is how traditional, historically-reified painting principles such as perspective, shading, symbolic tropes, and archetypes are reconstituted into novel arrangements that hold space for the expression of complex individual and collective histories. Hernández places a preeminence on unflinching authenticity in his work, even while intuiting that an honest portrayal of the external world is not possible in a two dimensional space. The vicissitudes and texture of memories are full of contradictions: simultaneously within reach, but not touching; in sight but out of recognition. Thus, his paintings are most faithfully representations of psychic realities, not only the artists' own but also his interpolations of intersubjective space: how institutions and historical patterns shape subjectivity and the creation of narrative.

Hernández employs concrete visual strategies galvanized from the historical painting canon which enable him to effectively release the image from the confines of the frame, allowing it to exist in a state of perpetual flux. In his book "Perspective as Symbolic Form," Erwin Panofksy quotes Albrecht Dürer in response to his fellow artist/contemporary Leon Battista Alberti's 1435 treatise Della Pictura (On Painting), which synthesized the rules of linear perspective: "For the structure of an infinite, unchanging and homogeneous space—in short, a purely mathematical space—is quite unlike the structure of psychophysiological space: Perception does not know the concept of infinity; from the very outset it is confined within certain spatial limits imposed by our faculty of perception." A common throughline across all of Hernández's paintings is the deliberate disregard for conventions of "correct" linear perspective, a decision that mimics feelings of destabilization and rupturing that evoke the fracturing processes surrounding lived trauma.

In si yo soy tu, lo mismo que tu eres yo and Platicerio; felt like the whispers of a vanishing hand, Hernández's choice to place the Platycerium and purple origami paper boat in the dead-center of the composition, yet render them in almost microscopic scale, serves a function akin to a highly idiosyncratic a memento mori: a reminder to the artist of something that he intrinsically already knows (memento mori is Latin for remember that you [have to] die). Hernández is creating a lexicon of motifs that he places in his paintings, inviting the viewer to decode them. The bilingual titles parenthetical phrases which invite the reader to hold the words and image and weigh them against each other. Figures in various states of transit, severed, floating, or ringed with subtle halos parallel the artist's own experiences with immigration at a young age, and his reimagining of the various histories of loss and displacement that eventually coalesce on the canvas. The entirety of night is a narrow edge eschews predetermined meaning, attaining increasing levels of nuance through allowing opposing forces of loss and tenderness, presence and absence to exist together in finite visual moments. Like the imminent exhale of a long-held breath, Hernández's compositions are simultaneously imbued with and informed by a sense of place inextricable from loss.


Erick Alejandro Hernández (b. 1994) is an artist from Matanzas, Cuba living and working in New Haven, CT. He received his BFA in Painting from Rhode Island School of Design and his MFA in Painting and Printmaking from Yale University. Hernández's practice is invested in exploring how traditional techniques like oil painting and drawing can shift material forms in order to hold complex individual and collective histories. Revolving around overarching narratives such as a car crash or the death of a loved one, his paintings are investigative allegories exploring individual and shared experiences like grief, assimilation, and exile.

Hernández has been a fellow at Skowhegan School of Painting and Sculpture, Oxbow, Yaddo, Macdowell, Mass MoCA, and the Sharpe-Walentas Studio Program, among others. Recent group and solo exhibitions include The Mistake Room (Los Angeles, CA), Perrotin (New York, NY), Yossi Milo (New York, NY), Harper's Books (East Hampton, NY), and Vox Populi (Philadelphia, PA).
Installation Views


Selected Work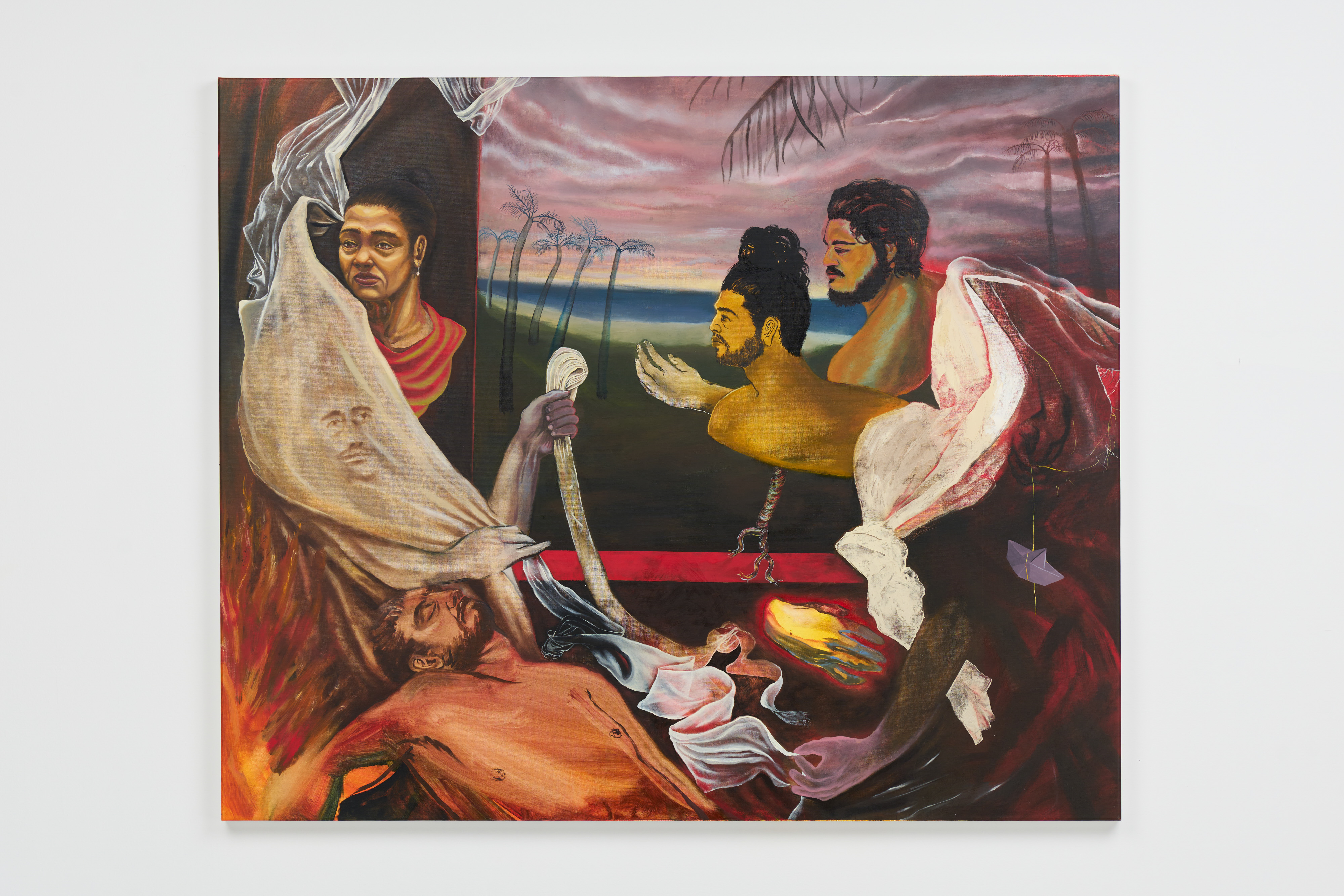 Window: the idea of air; an eye viewed from inside the skull (Hermanos), 2019
Oil on Linen
48 x 60 in (121.9 x 152.4 cm)
Mi Patria es un Papel; Is that your shadow? (Hermanos),2019
Oil on Canvas
48 x 60 in (121.9 x 152.4 cm)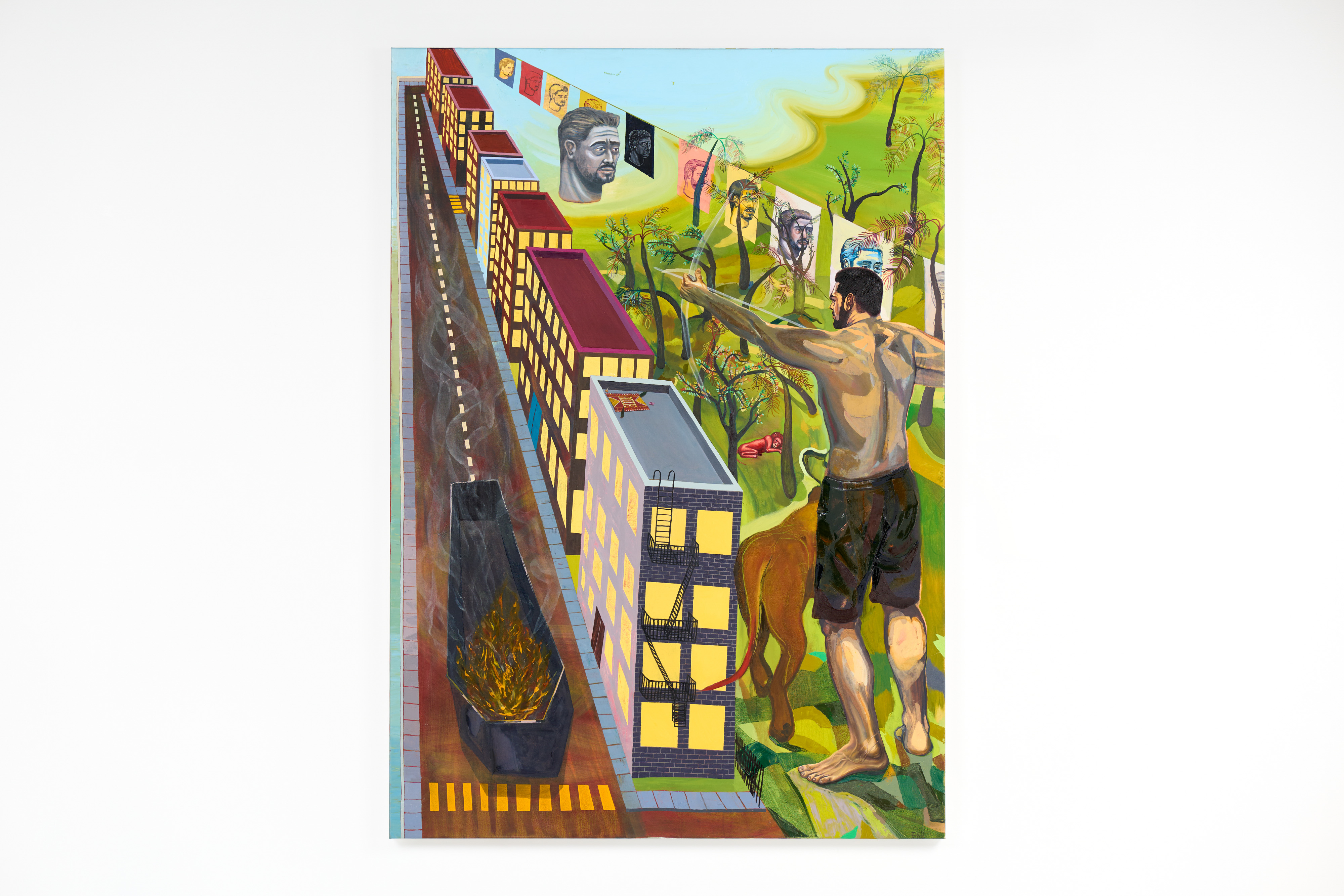 Si yo soy tu, lo mismo que tu eres yo,
2021
Oil on Canvas
84 x 58 in (213.4 x 147.3 cm)
Final de Partida; your pain caressed in a private place
, 2020
Oil on Linen
48 x 60 in (121.9 x 152.4 cm)
Retrato de Familia,
2022
Oil on Canvas
56 x 64 in (142.2 x 162.6 cm)
Platicerio; felt like the whispers of a vanishing hand,
2020
Acrylic, marker, and ballpoint on Canvas
48 x 60 in (121.9 x 152.4 cm)
Final de Partida; your pain caressed in a private place
, 2020
Oil on Linen
48 x 60 in (121.9 x 152.4 cm)
Flor, 2019
Oil on Canvas
8 x 12 in (20.3 x 30.5 cm)
Barquito,
2023
Oil on Canvas
9 x 12 in (22.9 x 30.5 cm)
León, 2023
Oil on Canvas
8 x 10.5 in (20.3 x 26.7 cm)
Autorretrato (Barcelona),
2019
Oil on Canvas
12 x 8 in (30.5 x 20.3 cm)
Cloak,
2019
Oil on Canvas
12 x 8 in (30.5 x 20.3 cm)
Retrato de Familia; projecting an absence,
2022
Oil, acrylic, ballpoint, marker, ballpoint, ink and neutral pH adhesive on Canvas
Dimensions Variable
Photos by Flying Studio (Indah Datau)