About Murmurs
Witnessing the 2020 movement for racial justice has made us as the directors of an arts space take pause and realize that this is not the time for half-measures or anything less than complete, full dedication to decolonizing and eradicating white supremacy, ableism, gender inequality, homophobia, and transphobia in every aspect of what we do. Murmurs has, from its conception, been dedicated to honoring the truths of our community and championing creative voices that are not being heard by other institutions.
The name "Murmurs" was chosen for its meaning — the collective undercurrents running through a society that are not obviously apparent. On our
website
and
Instagram
, you can view much of the past year's programming which demonstrates the range and diversity of artists and community organizations that Murmurs collaborates with. However, there is no question that we need to be doing more. This is a historic moment and we are ready to do the work. As non-Black allies who stand in solidarity with the Black Lives Matter movement, we will continue to listen to the Black voices around us, acknowledge and evaluate our privilege and how best to share it in a thoughtful, just, and respectful manner.
We're committed to doing all we can to empower voices, art, and activism that aligns with anti-racism, anti-capitalism. The following is an amendment to the Murmurs' mission statement and follow-up plan of action that concretizes how we plan to do our part towards dismantling systemic racism in both the art world and the world at large.
The Team
Allison Littrell,
Executive Director / Curator
b. 1992 in Los Angeles. She is a curator, writer, editor, and educator. She graduated from Bard College with a BA in Literature and Art History in 2014 and received her MA in curatorial studies from USC Roski in 2018. Before founding Murmurs in 2019, Littrell headed arts magazines
ALL-IN
and
Third
(a printed publication and programming initiative dedicated to creating space for POC artists to engage in critical decolonizing practices), in addition to working on films as a producer and art director. As a curator, she is passionate about the intersection of art and education, and creating new models for art spaces that engage community.
︎
︎
Morgan Elder,
Director / Curator
b.1992 in Los Angeles. She is a first generation American curator, artist, and designer. Elder received her BFA with an emphasis on Art History and Visual Critical Studies from the School of the Art Institute of Chicago. Upon graduating, Elder co-founded
Born Nude
, an experimental gallery out of a shared residential living space, in Chicago, IL.
Elder is interested in alternative exhibition models as part of her practice. She is the co-founder of Murmurs.
︎
︎
Gabrielle Datau,
Creative Director / Community Engagement Manager
b. 1990 in Los Angeles. She is a graphic designer, publisher, musician and organizer. She graduated from CalArts with a BFA in Graphic Design in 2012 & LATTC in Fashion Design in 2017 where she began sustainable clothing projects. In 2018, she co-founded
Third Magazine
, a printed art publication and public programming initiative that is dedicated to challenging the dominant colonial narratives of history through art, poetry and critical thought.
She is interested in harnessing postcolonial and Marxist theory within programming to inspire self-discovery & solidarity within the community to imagine a liberated world.
She is also an active member of
Streetwatch LA
, an organization dedicated to homeless outreach &
Polos Pantry
, an organization dedicated to food justice & feeding the unhoused community where she strives to connect the power of community permaculture with mutual aid.
︎
︎
The Cafe/Retail Space & Outdoor Garden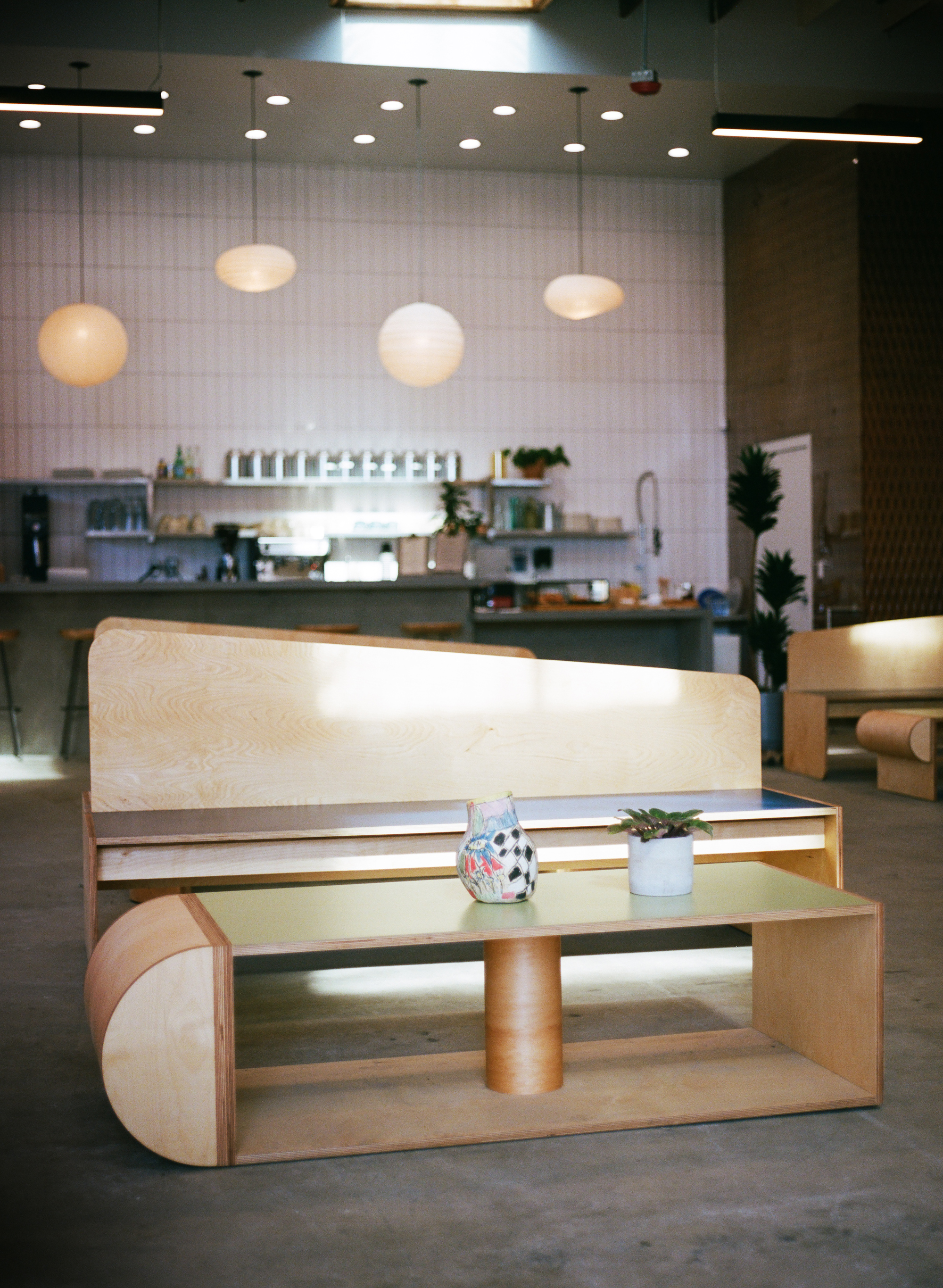 The Gallery

Visit Us

1411 Newton St.
Los Angeles, CA 90021
10-5pm Tuesday to Friday | 11-5pm Saturday

Murmurs has a red brick facade with a glass storefront and black gate. There are two entrances: the glass double doors and the door in the large black gate which leads into the patio garden. Cafe Murmurs and retail shop is located in the front room, with the gallery directly behind it. To visit the gallery, proceed through cafe and stay to the left, past the swinging glass doors.

Murmurs consists of a 4,900 sqft warehouse with two main spaces, plus a large covered patio garden that acts as a thoroughfare, connecting the front and back spaces. The back space is a 1,600 sqft gallery while the 1,200 front space features a professional cafe kitchen. Located just beyond the boundary of the Arts District in the Textile Manufacturing District, Murmurs is one of the few non-manufacturing business on the block. The space is available for selective rentals, at the owner's discretion. Inquire here: info@murmurs.la

PARKING
Free, un-metered street parking is readily available on our block of Newton Street.

PUBLIC TRANSPORTATION
The closest Metro station is the Washington Station, off of the Blue Line. You can also take the 51/53 bus to San Pedro/14th Street and walk for 4 minutes.

ACCESSIBILITY
Murmurs is located on the ground floor and the entire premises are wheelchair accessible & ADA compliant. All of our restrooms can accommodate large wheelchairs, as can our bar. A gender neutral restroom is located in the cafe.