OUR MISSION —
Murmurs is a joint curatorial project founded by Allison Littrell and Morgan Elder with the vision to create an arts space that is community-driven and champions the emerging artists and voices that surround us.

Located in a warehouse in downtown Los Angeles' Manufacturing District, Murmurs has a diverse program which includes exhibitions, performance, and events such as panels, workshops, film screenings, and readings. Integral to the space's mission is a dedication to improving the accessibility of art, which inspired the creation of a public gathering space within the gallery for artists to convene and research. With the infrastructure for a cafe, reading room, and shop, the multifaceted environment at Murmurs invites artists to experiment in the realms of social practice and collaboration-based artwork.

Conceptually, Murmurs is modeled after the duality of a murmur as both communal and personal, external and internal. Every momentous creation begins as a murmur — slipping from one person's lips into the earshot of another then repeated through a crowd, like ripples across still water. To hear murmurs requires a shift in perception.

They are currents flowing through the community, undergirding everything that is big, loud, and obvious. Though subtle, murmurs are powerful. In your heart, a murmur can arrest you from the inside out, dictating your body's rhythm to throw you into a state of heightened awareness.


OUR SPACE —Murmurs is housed in a 4,900 sqft renovated warehouse located in Downtown Los Angeles' Textile District. The multifaceted space consists of a 1,600 sq. ft gallery and a 1,200 sq. ft cafe/lounge with a public library and a shop which sells artist-made publications and small objects. The space is connected by a covered patio garden that acts as a thoroughfare, connecting the front and back spaces.

For rental inquiries and more information regarding the space please contact us here:



Ladies of the Canyon
Friday, August 9th & Saturday, August 10th 2019 | 7pm
The theatrical debut performance of "Ladies of the Canyon," the first installment of Jack Levinson's scripted series
The Square Circle Story.
This new staging will feature hand-drawn projected sets, 2006 period costuming, and an iconic ensemble of performers bringing this fictional universe into a new dimension.
Produced by Mercedes Kilmer, Jack Levinson, and Murmurs LA
Written, Directed, and Illustrated by Jack Levinson.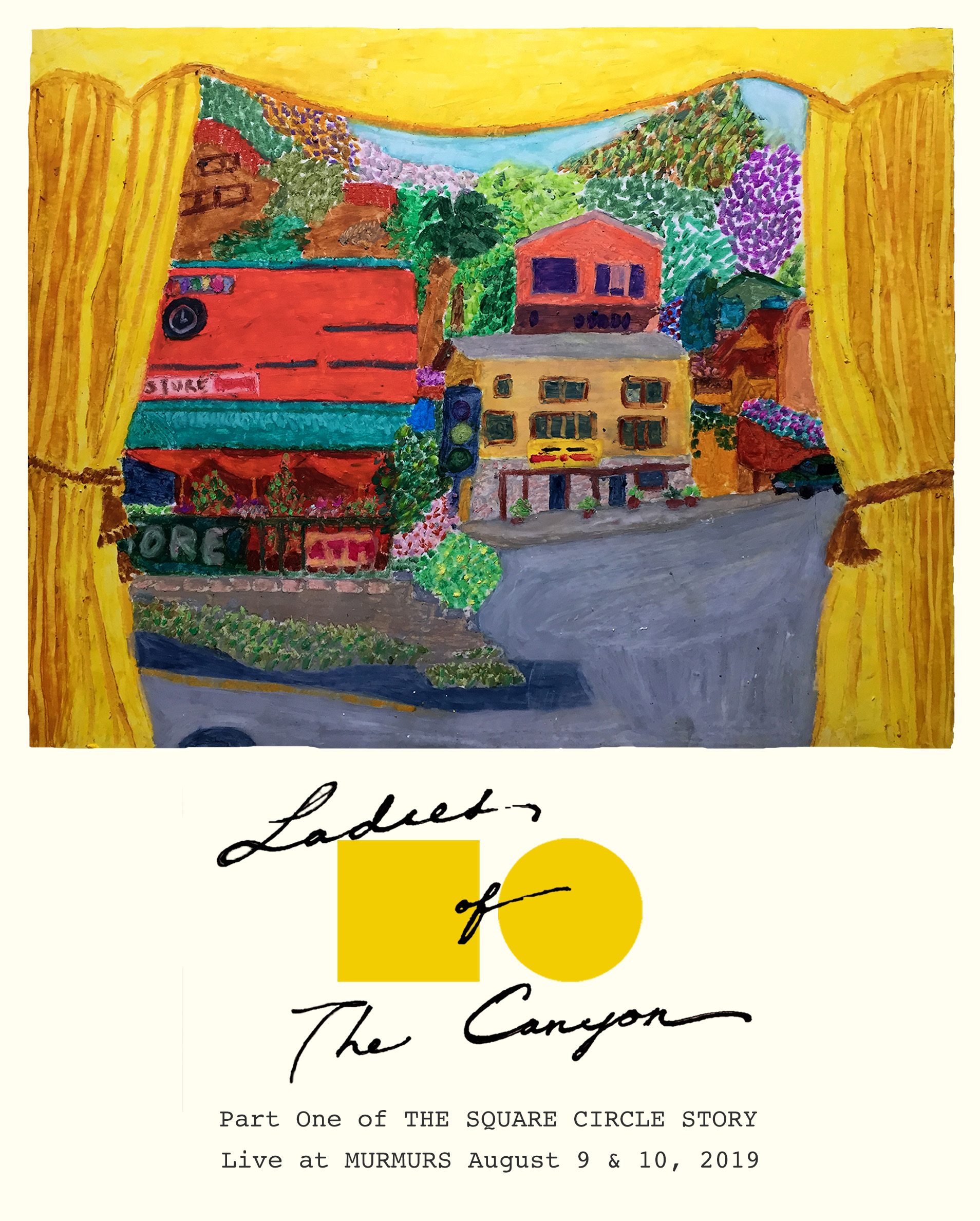 Murmurs Shop Opening — POWER DRESSING curated by Third Magazine
June 30th - August 30th 2019 |
Thursdays, Fridays & Saturdays 12-6pm or by appointment
For the first iteration of the shop at Murmurs, Third magazine has curated a selection of garments, accessories, and objects by 16 emerging designers. This ephemeral month-long shop is presented in conjunction with POWER DRESSING: Appearance as Performance, a night of collective fashion presentations by independent designers which takes place on August 3rd at Murmurs.